New York City would pay hundreds of people who were arrested during the 2020 Black Lives Matter protests thousands of dollars each as part of a proposed deal in a class action lawsuit accusing the city's police department of "violations of his rights under the First, Fourth and Fourteenth Amendments."
According to a court filing, the city would pay each of the protesters in the lawsuit $21,500 if a judge approves the settlement. An additional $2,500 would be awarded to those issued "Desk Appearance Tickets," which require a person to appear in court at a particular date and time to answer charges of a crime.
BLM CALLED OUT FOR RECEIVING MILLIONS, NOT HELPING BLACK AMERICANS: 'BLACK LIVES DON'T MATTER'
If approved, the deal is estimated to cost the city between $4 million and $6 million, considering that only about 90 of the 300 people who attended the June 4, 2020 protest have already reached an agreement. extrajudicial with the city.
The protests took place just days after the death of George Floyd while in police custody in Minneapolis, sparking similar protests in cities across the country.
BLACK LIVES MATTER IN SCHOOLS WEEK OF ACTION BEGINS FOR THOUSANDS OF US SCHOOLS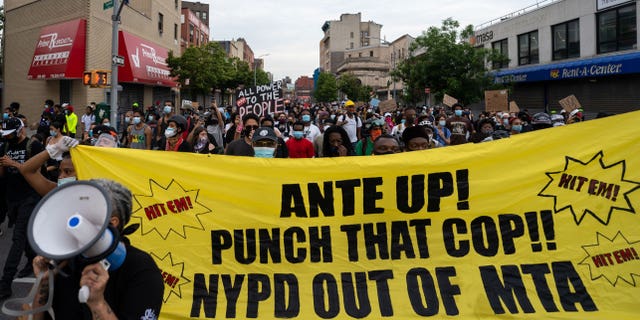 The city's proposed settlement specifically states that it offers compensation to "individuals who were stopped, arrested, and/or forcibly restrained by police officers on June 4, 2020, on East 136th Street between Brook Avenue and Brown Place in the Bronx." ". during the 'George Floyd protest' in Mott Haven".
The settlement could be one of the largest of its kind. In 2010, Washington, DC, agreed to pay protesters who were arrested near the World Bank $18,000 each for a total of $13.7 million.
CLICK HERE TO GET THE FOX NEWS APP